Page 1 2 3 4 5 6 7 8 9 10 11 12 13 14 15 16 17 18 19 20 21 22 23 24 25 26 27 28 29 30 31 32 33 34 35 36 37 38 39 40 41 42 43 44 45 46 47 48 49 50 51 52 53 54 55 56 57 58 59 60 61 62 63 64 65 66
During the whole bed rest fiasco we were blessed with amazingly good health. While the rest of our church suffered from flu and colds we emerged unscathed. We are apparently making up for lost time. Since Christmas we've had strep, sinus infection, stomach flu and now killer colds. Three of us are down with colds right now and poor Grace ended up with a sinus infection on top of it. Her head is so stopped up that her eyes won't stop watering. We are grateful for antibiotics and SOOOOOO ready for Spring!
(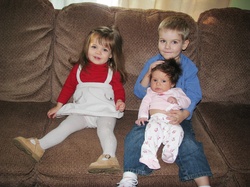 slept through the night
(8.5 hours!) 3 times this week!

has amazing smiles

is trying to talk a little

is by far the most laid back baby we've had...so far

sleeps whenever we leave the house. Most of our church is convinced she's never awake.

is already a thumb sucker

is not a happy camper from 7-9:30pm most nights

is beautiful

PS I'm a bit of a germaphobe (ok, a huge one) and don't let many people hold my babies so this is the first time Josiah's been allowed to hold her. He was very proud.
(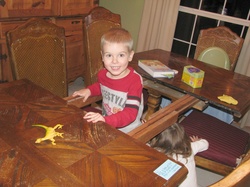 insists on sleeping with trains and a small herd of dinosaurs

can now read several words

carries around an advertisement for Thomas playsets and begs us to read it to him multiple times a day

loves to snuggle, especially with his Daddy

will only answer the question, "How old are you?" with "Actually, I'm not concerned with things like that"

likes to give Kasia kisses and read to her

plans out all the details of his birthday at least 9 months in advance
(currently he will have a train cake, eat red gum drops, drink red juice, invite Mrs. Brenda, get about 15 Thomas toys and has told God it should not rain)

Makes us laugh when he says stuff like:


My body is telling me to go potty but my blood is telling me not to and my teeth are telling me they don't like what I'm eating.
...and..

I just shared my toys with Gracie. Did I make God smile?
(
insists on sleeping with a Readers Digest

likes to eat with her eyes closed

loves to throw poopy diapers and dead lady bugs in a 'tarsh'
(trash)

is regularly stared at because people think I put a wig on her
(I promise all that crazy hair is 100% hers)

insists on carrying around 2 or more blankets and sippy cups all day

can fit her whole fist in her mouth

likes playing with her 'roars'
(dinosaurs)

seems to have spontaneously potty trained herself this week. We're just praying it lasts.

calls herself 'gee gee'

loves to "keen up"
(clean up), which is a good thing since she's so messy

loves to dance and run 'fass'
(fast)

will do almost anything for a cookie or a 'sert'
(dessert)
(
Per popular request, here are the not-so-secret acts of love we ended up with...

Josiah gave us kisses and hugs, Thomas stickers and the pen to his Aquadoodle (which he of course wanted back the next time he played with it). Philip kept the bathroom cool for me one morning so I wouldn't melt after my workout. I made a muffin tin picnic for the kids, declared Fun Friday, made a mail box for the kids to get messages in each morning and took out the trash and compost for Philip. Grace threw the bean bag in Josiah's face. I'm not sure that was an act of love...we'll work on that next year.

(
Josiah got a Happy Meal yesterday, complete with some cheap Made-in-China plastic penguin that shoots cardboard discs out of it's mouth (don't ask me why). He's been frustrated with it since the moment he opened it because it doesn't work well and we're completely tired of his whining. So I did what any good mother would do...I just informed him that card shooting penguins die on Valentines Day. As Philip giggled in the background Josiah gave me a 'poor dumb Mom' look said, "Mom, only REAL animals die. This is a toy. He's ok." Busted.
(
What do you call it when you've lost your groove? Ungrooved? Degrooved? Degroovification? At any rate, the groove we found a few weeks ago was lost this week and it was rough. We were snowed in, whiny and impatient...all of us. Knowing that we had to break out of this pattern I woke the kids up Friday morning and declared a Fun Day. We ditched healthy food and nap times and headed to Cedar Rapids. We spent the morning at the kids play ground at the mall, met Philip and some friends at McDonald's for lunch, went back to the mall for a bit and headed home for chocolate cake and movie time. I'm fairly sure the kids think their mother was abducted by aliens and replaced with someone far more fun.

Only 100 more days until it's warm again.
(
Page 1 2 3 4 5 6 7 8 9 10 11 12 13 14 15 16 17 18 19 20 21 22 23 24 25 26 27 28 29 30 31 32 33 34 35 36 37 38 39 40 41 42 43 44 45 46 47 48 49 50 51 52 53 54 55 56 57 58 59 60 61 62 63 64 65 66
Powered by My Blog 1.6. Copyright 2003-2010 FuzzyMonkey.net
Customized and heavily modified by Philip Dean